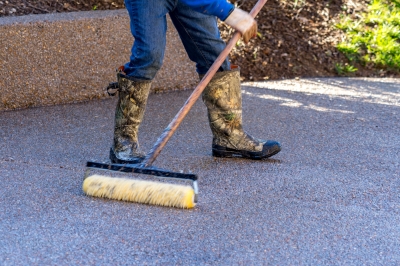 Aggregate Driveway Sealing in Norene, Tennessee is slightly different than in most parts of the country. For starters, the most common type of driveway in Middle Tennessee is an aggregate concrete. The exposed aggregate look is something that takes a few extra steps to achieve. First that concrete is poured similar to a normal slab. Then a surface retarder is sprayed upon the drying slab. This process breaks the top layer of concrete down. After the retarder is sprayed, we can then hose and broom off the top layer, revealing the colorful, aggregate smooth pebble underneath.
Contact Us
37136 Driveway Sealing (Norene, TN)
Because of this unique process, sealing a 37136 Tennessee aggregate driveway is a little more involved than a normal concrete or blacktop driveway. We must first clean your driveway. We start by powerwashing your driveway with a 4000psi pressure washer. As an added bonus we will also powerwash your sidewalks and any normal concrete areas out to the road. This is a necessary step to get rid of any dirt and grime that has bonded to the surface. While the Norene aggregate driveway is drying, we go through all of the expansion joints and cracks with a crack filler/sealer. We choose a color that blends nicely with the overall color of the driveway to make sure the cracks do not stick out. The crack filler acts as a water barrier between the elements and the concrete.
---
Other Services Include:
After the driveway is completely dry, we can begin sealing. We use quality 30% acrylic sealer only available to contractors. It is a roll-on process, but we make sure not to splash, or spray the sealer. The aggregate sealer should have a good amount of sunlight to make sure it dries properly. At Channell Sealants we make sure that after the first coat is applied, we go back through on a second coat. We want to make sure that no moisture is able to penetrate your driveway, and it enriches the sheen and color of your driveway.
We recommend that you wait until the compound is completely dry before walking on it. Typically, this is about 5-6 hours after application in good sunlight. We recommend you don't drive on this for at least two days. Additionally, try to avoid turning the wheels of your vehicle while stationary, as this can cause the material to bunch up if not completely dry
When you are looking for the expertise, Channell Sealants will be there to make sure this process is done right and professionally. Channell Sealants recommends that you seal your Norene aggregate driveway every 2 years.
What to expect from us:
Pressure wash all areas of concrete,flat rock, brick stair cases and stoops.
Clean surrounding areas near driveway, such as doors and garage doors.
Remove all discolor of mold fungus with a 4000psi pressure washer.
Once prepped, fill in all cracks and expansion joints with crack filler to create a water barrier, as well as brush/cut in any brick outlines, structures and curves.
Sealer is professionally applied to the concrete only. It will never be splashed, sprayed or squeegee on your home or brick outlines.
Once the concrete outline is prepped, the seal is applied to the concrete with a 3" mat roller, applying as much seal on the concrete as possible.
The first coat applied is a base coat, which adheres in 10-15 min.
The second coat is applied once the base coat properly dries, using a 3" nap roller
For certain circumstances i.e. those with kids, driveways on a grade, we recommend adding Sure-Grip™, a slip resistant additive.
No chemicals or solvents will be used to harm your concrete as well as the environment.
Complementary cleaning of community/neighborhood sidewalks attached to the home's property.